FX Wildcat MKIII Compact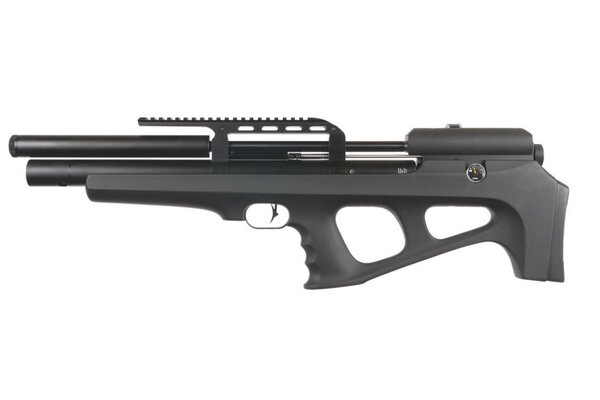 Product description
FX Wildcat MKIII Compact
The FX Wildcat MKIII Compact is a highly regarded air rifle designed and manufactured by FX Airguns, a renowned Swedish company known for their precision craftsmanship and innovative designs. As part of the Wildcat series, the MKIII Compact offers exceptional performance and versatility in a compact package.
The rifle features a bullpup design, where the action is positioned at the rear of the stock, resulting in a shorter overall length while maintaining a full-length barrel. This configuration provides a balanced and maneuverable firearm that is ideal for both hunting and target shooting.
4 Possible Calibers
The FX Wildcat MKIII Compact is available in various calibers, including .177, .22, .25, and .30, allowing shooters to choose the caliber that best suits their specific needs. The barrel is precision rifled and shrouded, which helps in reducing the noise level while enhancing accuracy. It is also possible to add an optional moderator for even quieter shooting.
One of the standout features of the FX Wildcat MKIII Compact is its advanced sidelever action. The smooth and reliable sidelever allows for quick and effortless cocking and loading of the rifle, ensuring minimal disruption to your shooting experience.
Match-Grade Trigger
The rifle boasts a highly adjustable match-grade trigger, which can be tailored to the shooter's preference. This customizable trigger system enables crisp and consistent trigger pulls, enhancing accuracy and shot control.
Another notable feature is the rifle's innovative Smooth Twist X (STX) barrel system. This interchangeable barrel system allows shooters to switch between different barrel liners to optimize performance for various projectiles and shooting applications. The STX barrel system, combined with the integrated power adjuster, provides shooters with unparalleled flexibility and efficiency.
High Capacity Magazines
The FX Wildcat MKIII Compact features a high-capacity, removable magazine, allowing for quick and easy reloading. The magazine is constructed with high-quality materials and is designed to feed reliably and smoothly, further enhancing the shooting experience.
The stock of the MKIII Compact is ergonomically designed and ambidextrous, catering to shooters of all preferences. It features a rubberized grip for improved handling and comfort, while the adjustable cheek piece and butt pad allow for personalized fit and optimal shooting position.
Overall, the FX Wildcat MKIII Compact is a top-tier air rifle that combines exceptional performance, innovative features, and compact design. Whether you're a hunter looking for a lightweight and maneuverable firearm or a target shooter seeking precision and accuracy, the MKIII Compact is a superb choice.
Product specifications
Brand

FX Airguns

Productstatus

New

Caliber

4.5 mm .177 / 5.5 mm .22 / 6.35 mm .25 / 7.62mm .30

Powersource

PCP

Energy (joule)

4.5 mm 27J / 5.5 mm 55J / 6.35 mm 75J / 7.62mm 91J

Cockingsystem

Sidelever Action

Magazine capacity

13, 16, 18, 22

Safety

Yes

Weight (gram)

2700

Total length (mm)

6750

Sight

No, not included

Scope included

Not included, optional

Mounting rail

Weaver

Stock

Ambidextrous

Stock materiaal

Synthetic
Show more
Show less