MTM Case Card RM-60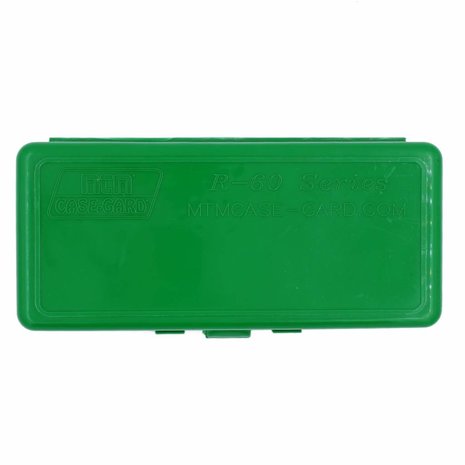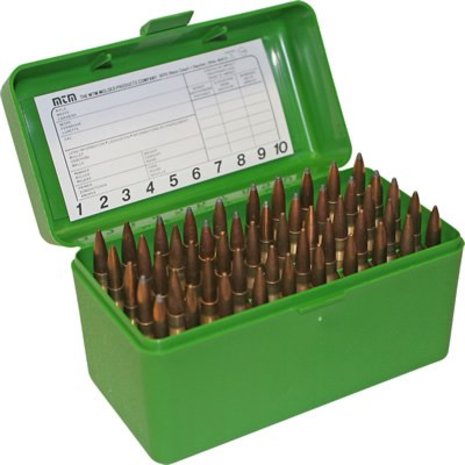 Product description
Case-Gard R-60 Series
These are the latest Case-Gard ammunition boxes, suitable for the storage of 60 pieces of ammunition. The ammunition boxes are made of virtually indestructible polypropylene, which will not bend, break, expand or shrink. MTM Case-Gard rifle ammunition boxes are the first choice of rifle enthusiasts around the world. The mechanical hinge has a minimum life of 25 years. The Snap-Lock protects the contents from accidental opening of the ammunition box.
Each Case-Gard 60 ammunition box comes with a marking label for recording data. All MTM Case-Gard ammunition boxes are made locally in Dayton Ohio USA.
The RM-60 is suitable for the following calibers:
219 Donald Wasp, 219 Zipper, 22 Cheetah, 220Swift, 224 Wby. Mag., 225 / 243 / 307 / 308 Win., 250 Sav., 22-250 / 30 / 35 / 6mm Brake, 28-30 Sevens, 300 Sav., 32 Win Spl., 338 Fed., 35 Brake, 360 Nitro Express 2 1/4", 375 Rimless 2 ¼", 5.6x52 Rimmed, 6.5 Creedmoor, 6mm-284 Win, 6.5x50 Jap. Arisaka, 6.5x54mm Mann-Shoe, 7.35 Carcano, 7.5x54 French MAS, 7.5x55 Swiss, 7.62x39 Russian, 7.65x53 Mauser, 7mm TCU.
Max. OAL= 3.05".