Bullets Hornady Match .308 178 grain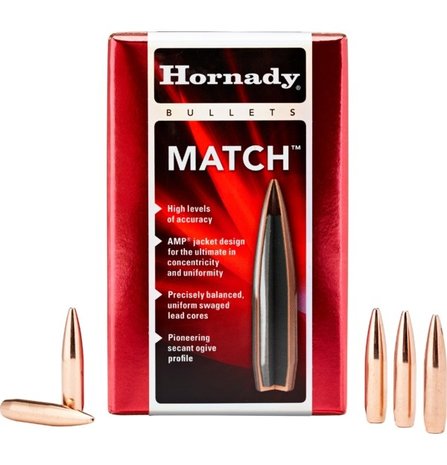 Product description
Hornady .308 178 gr BTHP Match™
Hornady's Match bullets are of the model BTHP, ie Boat Tail Hollow Point.
The Boat Tail shape of this bullet has proven to be one of the most successful in long range shooting.
The Hollow Point point provides a uniform point, which makes the ballistic properties compared to a normal FMJ bullet much better.
Hornady has used the AMP bullet jacket for this Match bullet point, which is very uniform in thickness and shape all around, so that the bullet points also have minimal differences between themselves, all of which naturally benefits the grouping with multiple shots.
With the Doppler Radar from Hornady they were able to accurately determine the Ballistic Coefficient of these Match bullets.
Product specifications
Brand

Hornady

Caliber

.30

Type of bullet head

BTHP

Lead-free

No

Measure

.308

Bulletweight (grain)

178

BC

.530 (G1)

Packed per

100
Show more
Show less