Caliber .410 Boreblitz Boresnake by Niebling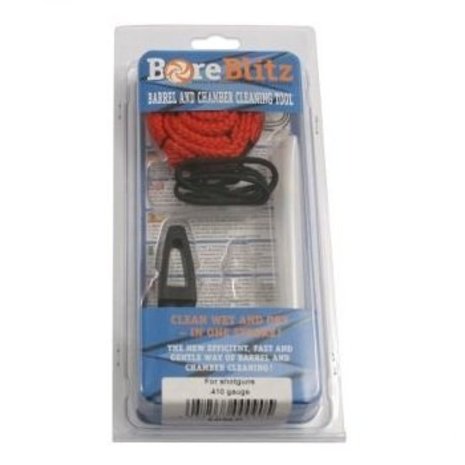 Product description
The BoreBlitz is a user-friendly solution for cleaning your weapon, it doesn't get easier than this. The patented cleaningcord cleans quickly and efficiently, all you have to do is pull the cord through the barrel of your pistol or rifle. The BoreBlitz consists of the cleaning cord, handle and zip bag and instructions.
BoreBlitz features:
Super user friendly due to easy operation
BoreBlitz is suitable for smoothbore and conventional barrels (Land and groove) 
After use, the BoreBlitz can easily be washed out in warm soapy water and reuse
Comes with handle so the cord can be easily pulled through the barrel
Optimal oil distribution in the barrel
Less wear than traditional brushes
Cleaning, lubrication and preservatives in one operation
Compatible with all known barrel cleaning products and guncare products
Operation of the BoreBlitz:
Two integrated special sponges on the front and back of the BoreBlitz serve as a liquid reservoir. This allows a maximum of two different cleaning or maintenance products to be used simultaneously per cleaning process (for example, an aggressive cleaner on the front and neutralizing gun oil on the back).
The extremely strong drawstring of the BoreBlitz is guided by the brass weight through the chamber of the barrel through the barrel and wrapped around the sturdy plastic handle.
Because of the perfect balance between the length of the fabric body and the drawstring, BoreBlitz is also ideal for weapons with an extra long barrel.
Caliber-optimized rubber balls ensure a constant even distribution of pressure and liquid throughout the barrel, so that residues are carefully and thoroughly removed.
The pressure of the balls ensures that the barrel is immediately pulled dry, making the weapon immediately ready for use after the cleaning process. The well-known "oil shot" is now a thing of the past! The fabric, sponges and rubber balls of the BoreBlitz are resistant to all well-known gun cleaners and weapon maintenance products.
Instruction video for using the BoreBlitz:
Product specifications
Brand

Niebling

Caliber

410 Gauge

Type

Shotgun

Color

Red

Contents

Two integrated special sponges on the front and back, caliber-optimized rubber balls and comes with handle.
Show more
Show less