.22 / 5.56 mm BoreBlitz Boresnake pistol - revolver by Niebling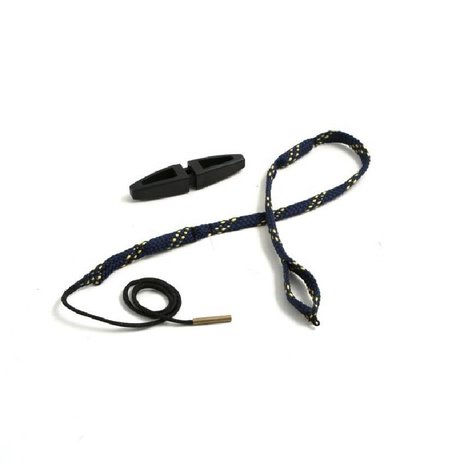 Product description
With this BoreBlitz from niebling, cleaning a pistol or revolver barrel is done in an instant.
In the front and back of the BoreBlitz 2 sponges have been applied to which, for example, a cleaning fluid and a protective oil are applied.
Just after these sponges, 2 rubber balls have also been applied, the rubber balls ensure a perfect connection with the barrel and ensure that all cleaning and oil residues are removed when the barrel is pulled through.
The set also includes a handle to be able to pull the BoreBlitz through the barrel more easily, the beginning of the BoreBlitz has a brass piece so that it falls through the barrel with ease.
Suitable for Airguns and Firearms of the caliber .22 / 5.56 mm
Instruction video for using the BoreBlitz:
Product specifications
Brand

Niebling

Caliber

22 / 5.56 mm

Type

Pistol

Color

Black

Contents

Two integrated special sponges on the front and back, caliber-optimized rubber balls and comes with handle.
Show more
Show less