Airforce
AirForce Texan LSS

Airforce
AirForce Texan
View

Airforce
AirForce Texan SS
Low shipping cost, worldwide delivery
Fast delivery
Secure order and payment
Overige categorieën in Air guns
Want to buy an AirForce air rifle?
AirForce is known for their large caliber air rifles, they have air rifles in the range up to the .510 caliber, which can rightly be called a Big Bore air rifle. AirForce has been around for about 20 years and the company is based in Texas and Tennessee in the United States, where all parts are also made and assembled.
All AirForce Airguns are made to accurately shoot large projectiles at long distances, for this reason the AirForce air rifles are single-shot. A large magazine with .510 bullets also becomes very heavy!
AirForce Texan
The Texan air rifles are about the most famous of Airforce. These powerful air rifles are available in different calibers from .257 to .510. Airforce Texan LSS .510 generates up to 880 Joules of power.
The AirForce Texan Big Bore air rifles are available in a number of different versions.

From left to right you first see the standard Airforce Texan, this serious Big Bore is one of the most powerful air rifles that are made on a large scale. This workhorse from AirForce is therefore one of the best-selling models. The next model is the AirForce Carbine, the request of many shooters was for a standard Texan with a shorter barrel that is still very powerful, Airforce has met that demand with a Carbine version of the Texan  with a length of 99 cm.
Next up is the AirForce Texan LSS and is more or less a full size Texan fitted with the AirForce Texan SS muffler, and the last in line is the SS version and is a Carbine with also a muffler.
Texan AirForce Airguns CF-Series 1000 Joule
All the above Texan air rifles in caliber .457 and .50 are also available with a Carbon Cylinder, CF-Series stands for Carbon Fiber. This cylinder may be filled with a pressure of 250 Bar, which is 50 Bar more than the steel version, this, together with the renewed TX2 valve, makes it possible to generate a force of more than 1000 Joules.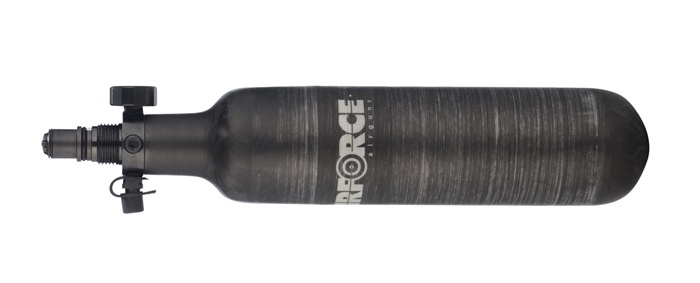 The Carbon Fiber cylinders with TX2 valve can be used on all Airforce Texan models with caliber .457 and .50
Airforce Small Bore Airguns
For the shooter who doesn't need that much power and prefers to shoot with a smaller projectile, AirForce has a number of models with caliber sizes from .177 (4.5mm) to .25 (6.35mm).
The Airforce Condor, Escape and Talon, among others, meet the needs of the smaller calibres. ranging in power from 54 joules with the Talon SS to 142 joules with the Airforce Condor. If you are looking for a very short Airforce rifle, the Airforce Escape and the Talon P are a very good option, they are already available in a size of about 60 cm.
If you have any questions about an AirForce air rifle or if you are looking for a model that is not in our webshop, please contact us and we will gladly help you in your search for the right AirForce air rifle.